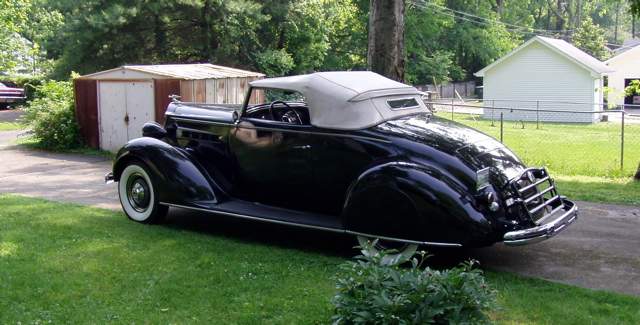 ARO pattern # 711© 1936 Packard 120-B Convertible Coupe INSTALLED 2007 - M.Lambert, TN

ARO pattern # 711©

1935 - 38 Packard 110, 115, 120 Cabriolet

ORIGINAL STYLE Rear curtain - Double solid Square w/brass side zippers

Curtain

mounts to plate on backside of rear bow above window. Must reuse metal window ring & glass.

Our convertible tops are manufactured using the proven patterns, utilizing factory style materials. We computer cut and assemble our tops to duplicate the original Factory quality for fit and appearance. All seams are di-electrically sealed to prevent leakage.

We use First quality Haartz

automotive vinyl or cloth toppings. Samples may be viewed by clicking on the links below.

* * * * * SHIPPING CHARGES ARE NOT INCLUDED AND VARY DEPENDING ON ORDER AND DELIVERY ADDRESS * * * * *

SHIPPING CHARGES WILL BE BILLED SEPARATELY

Most orders ship within 35 business days following receipt of payment

"Top Quality - Perfect Fit" -

ARO patterns have been the choice of professional restorers & installation centers for over 80 years.