Content & layout is the property of ARO 2000 & may not be reproduced or used without permission.
ARO pattern # 906A ©
1951-54 Nash Healey
1 piece top w/ single ZIPPERED rear window
PINPOINT VINYL is the original style material.
(PHOTO AND INSTALLATION COURTESY OF A.M. AUTO TRIM DOVER NJ. 7/16/2018
HAARTZ STAYFAST CLOTH SF-2808 BURGUNDY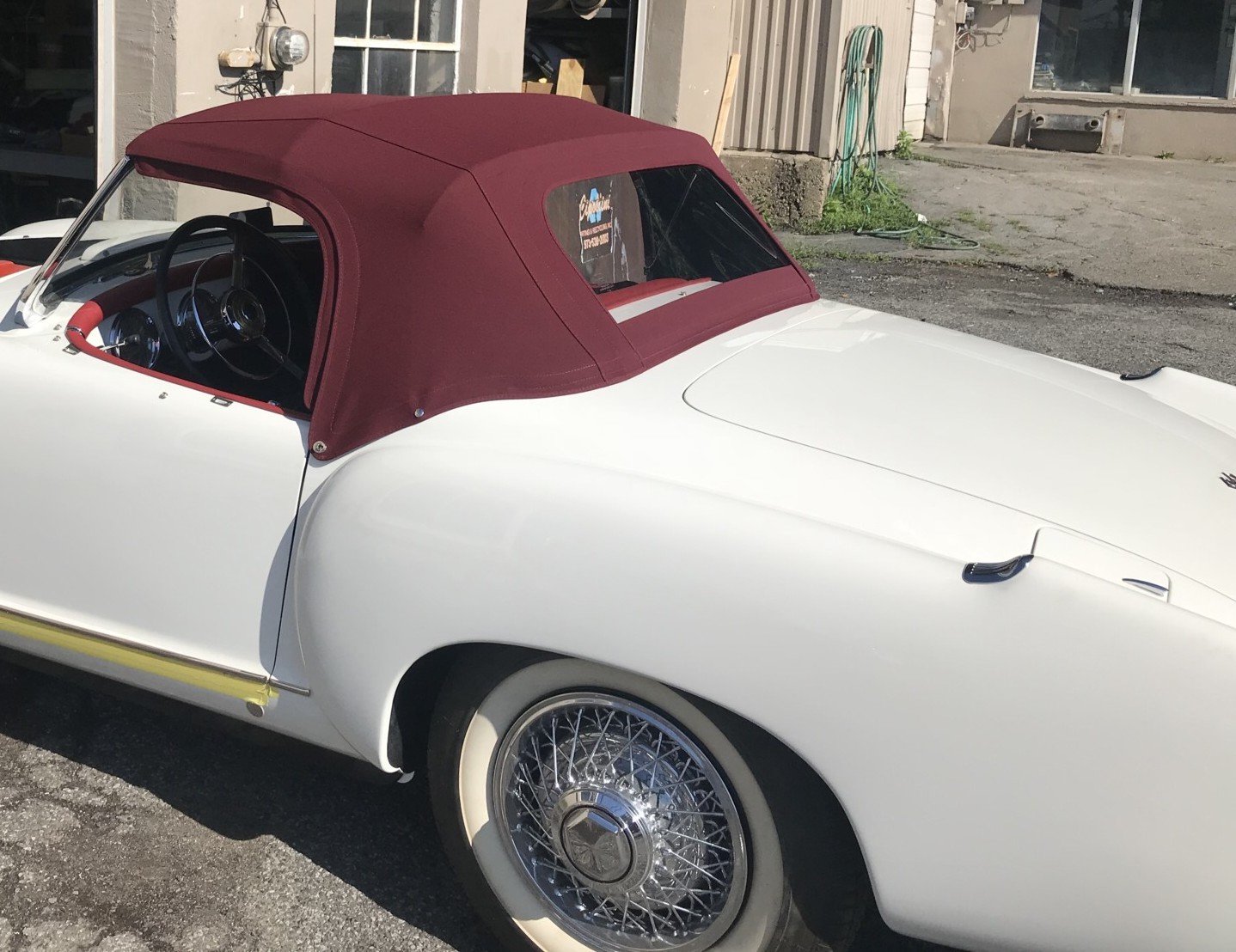 We use First quality Haartz
automotive vinyl or cloth toppings. Samples may be viewed by clicking on the links below.

* * * * * SHIPPING CHARGES NOT INCLUDED AND WILL BE BILLED SEPARATELY, BASED ON DESTINATION * * * * *

Most orders ship within 15 business days following receipt of payment

"Top Quality - Perfect Fit" -

ARO patterns have been the choice of professional restorers & installation centers for over 80 years.
CONVERTIBLE TOP + CLEAR VINYL WINDOW kits

Replace your worn or damaged top with our restoration quality CONVERTIBLE TOP and CLEAR VINYL WINDOW. These are BRAND NEW, made to original quality & specifications to insure perfect FACTORY STYLE fit. Ready for factory style installation (no modifications or sewing required).

The clear vinyl is 40 gauge AS6 DOT automotive grade vinyl, with ZIPPERED CENTER WINDOW

FASTENERS INCLUDED - NOT INSTALLED

CONVERTIBLE TOP + FULLVUE - PINPOINT OR SAILCLOTH VINYL

$

525.

CONVERTIBLE TOP + FULLVUE - STAYFAST CLOTH

$745

.

SIDE CURTAIN TRIM ( LOWER SECTION TO MATCH TOP ON ORDER)

$100

.

CLICK HERE FOR ADDITIONAL - FASTENERS, YARD GOODS
CLICK HERE FOR - RAGGTOPP TOP CARE KIT - FABRIC or VINYL CLEANER AND PROTECTANT

Information contained herein is the property of

ARO 2000 & may not be reproduced or used without permission.

Copyright © ARO 2000. All rights reserved.
Revised: July 18, 2018

Call - 845-778-1314, fax 845-778-3968 or email us for additional information

A DIVISION OF PUTT GEORGI LTD.